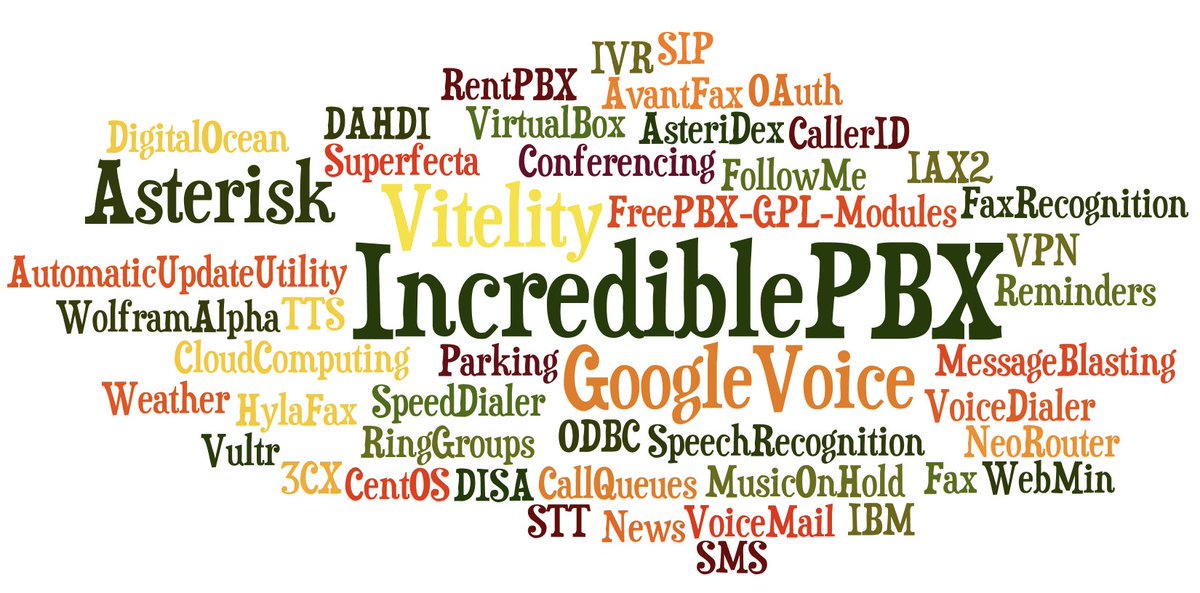 These deals don't come along every day so we're interrupting our regular programming to alert you to a terrific, limited time cloud hosting offer for first-time users of Vultr. If you hurry, you can take advantage of a
$25 credit on Vultr
which translates into 10 free months of cloud hosting service. We can't say enough about Vultr. They've been one of our key resources for development and testing of new releases of Incredible PBX for many years. Historically, they've supported our open source projects through generous referral revenue although that does not apply with this special offer. If you've always wondered whether cloud hosting was a viable alternative to on-premise solutions, now's your chance to kick the tires at zero cost. And the other good news is you have your choice of the following Incredible PBX offerings. Simply load the required OS or upload the ISO for the platform of your choice and follow the linked tutorials below. Enjoy!
Originally published: Friday, May 25, 2018
---
Support Issues. With any application as sophisticated as this one, you're bound to have questions. Blog comments are a terrible place to handle support issues although we welcome general comments about our articles and software. If you have particular support issues, we encourage you to get actively involved in the PBX in a Flash Forums. It's the best Asterisk tech support site in the business, and it's all free! Please have a look and post your support questions there. Unlike some forums, ours is extremely friendly and is supported by literally hundreds of Asterisk gurus and thousands of users just like you. You won't have to wait long for an answer to your question.
---

Need help with Asterisk? Visit the PBX in a Flash Forum.

---
Special Thanks to Our Generous Sponsors
FULL DISCLOSURE: RentPBX, Amazon, Vitelity, DigitalOcean, Vultr, Digium, Sangoma, 3CX, TelecomsXchange and others have provided financial support to Nerd Vittles and our open source projects through advertising, referral revenue, and/or merchandise. We've chosen these providers not the other way around. Our decisions are based upon their corporate reputation and the quality of their offerings and their pricing. Our recommendations regarding technology are reached without regard to financial compensation except in situations in which comparable products at comparable pricing are available from multiple sources. In this limited case, we support our sponsors because our sponsors support us.


Awesome Vitelity Special. Vitelity has generously offered a terrific discount for Nerd Vittles readers. You now can get an almost half-price DID from our special Vitelity sign-up link. If you're seeking the best flexibility in choosing an area code and phone number plus the lowest entry level pricing plus high quality calls, then Vitelity is the hands-down winner. Vitelity provides Tier A DID inbound service in over 3,000 rate centers throughout the US and Canada. When you use our special link to sign up, Nerd Vittles gets a few shekels down the road to support our open source development efforts while you get an incredible signup deal as well. The going rate for Vitelity's DID service is $7.95 a month which includes up to 4,000 incoming minutes on two simultaneous channels with terminations priced at 1.45¢ per minute. Not any more! For our users, here's a deal you can't (and shouldn't) refuse! Sign up now, and you can purchase a Tier A DID with unlimited incoming calls and four simultaneous channels for just $3.99 a month. To check availability of local numbers and tiers of service from Vitelity, click here. NOTE: You can only use the Nerd Vittles sign-up link to order your DIDs, or you won't get the special pricing! Vitelity's rate is just 1.44¢ per minute for outbound calls in the U.S. There is a $35 prepay when you sign up. This covers future usage. Any balance is refundable if you decide to discontinue service with Vitelity.
---
RentPBX, a long-time partner and supporter of PIAF project, is offering generous discounts for Nerd Vittles readers. For all of your Incredible PBX hosting needs, sign up at www.RentPBX.com and use code NOGOTCHAS to get the special pricing. The code will lower the price to $14.99/month, originally $24.99/month. It's less than 50¢/day.
---
Some Recent Nerd Vittles Articles of Interest…