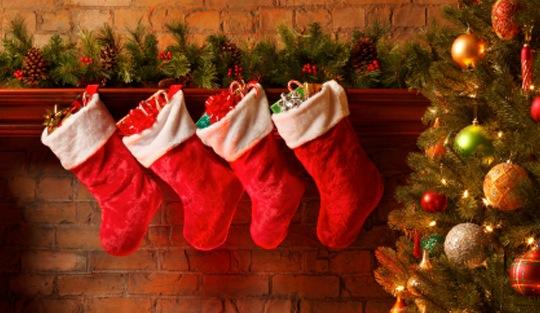 Tech toys continue to proliferate and, to get you in the Christmas spirit, we thought we would run down our short list of Must Have's for 2012 so that you'll be prepared for your Black Friday shopping spree. It's just 10 days away!
Cell Phone Paradise
In the smartphone category, the iPhone 5 ranks up there as one of the most disappointing offerings of the year in our book. Apple continues to force obsolescence with a new nano SIM card and an all-new dock connector that only supports USB 2.0. Near Field Communication (NFC) is nowhere to be found. Did we mention the endless LITIGATION that seems to have replaced INNOVATION at Apple? Before you buy from Apple, ask yourself if you really want to encourage this type of corporate behavior. It's ruining software development, and spare us the B.S. about Apple inventing all of this stuff. They didn't!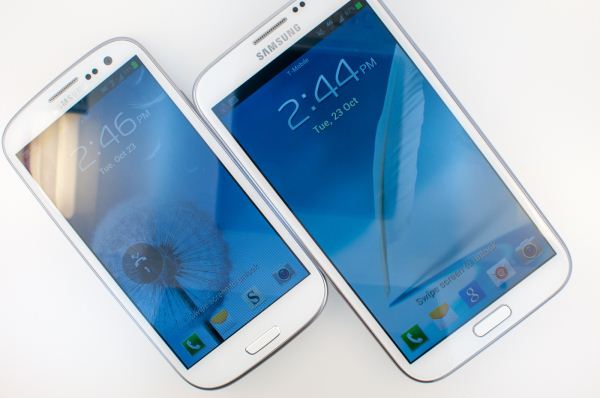 Three out of four new cellphones reportedly are Android phones. There are lots of reasons why. We've been a huge fan of Samsung's Galaxy S III as the best cellphone on the market… until we tried the new Galaxy Note II. We had planned to do a full-fledged review of the device until we read AnandTech's writeup. It covers everything you'd ever want to know. What can we say? Easily rooted. A 5.5 inch diagonal screen with 1280×720 resolution leaves everything else in the dust. Add Android Jelly Bean with a quad-core processor and support for Samsung's S-Pen, two fantastic cameras, a replaceable battery, 64GB microSD card support, an 11.78 watt-hour battery, cellular support for category 3 LTE FDD and TDD, Release 9 DC-HSPA+, GSM/EDGE, and TD-SCDMA along with onboard gpsOneGen 8A GNSS, and it's damn close to perfect. It brings you the best of all possible non-proprietary worlds. And, yes, it still fits comfortably in your jeans pocket. Honest, you will love The Phablet, and it's available with free 2-day shipping using Amazon Prime.1 Or check out the Black Friday deals.
Best Cell Phone Plans
The United States cellphone provider market continues to be dominated by the Bell sisters, AT&T and Verizon, with Sprint and T-Mobile competing in the also-ran category. The good news is there now are some terrific cellphone pay-as-you-go bargains using three of the four major providers. Monthly pricing of these plans is typically 50 to 75% less than comparable plan offerings from AT&T and Verizon. Here are our favorites.
Straight Talk Unlimited. Straight Talk in conjunction with WalMart offers a $45 monthly plan ($495 a year) with unlimited talk, text, and web access. Buy a SIM for $9.99 and a refill card, port your number, and you'll be up and running in about an hour. Better yet, buy them together and use coupon code SIMSAVE, and the SIM card is free with free shipping as well. It uses the identical AT&T network infrastructure as AT&T, and Straight Talk SIMs are interchangeable using any existing AT&T cellphone. On an Android phone, the feature set is identical to what you'd get with an AT&T plan. On an iPhone, you lose Visual Voicemail. If the phone is not jailbroken, you may lose multimedia messaging (MMS). For configuration details, see this post. Also available for T-Mobile, if you prefer. No tethering!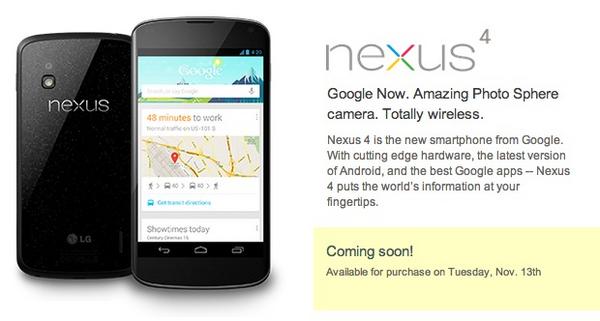 T-Mobile Unlimited Data Plan. T-Mobile in conjunction with WalMart offers a pay-as-you-go plan with 100 voice minutes, unlimited texting, and unlimited data (5GB at 4G speed and 2G speed thereafter) for $30 a month. Extra voice minutes are 10¢. It's not only an amazing deal, but the fine print doesn't seem to preclude tethering. You can use it with any T-Mobile phone including all of Google's Android phones. For tethering support, any rootable Android phone works as well as the unmodified $349 Galaxy Nexus 4 purchased directly from Google starting today at noon Eastern time. The Nexus 4 gives you 4G performance over HSPA+, but no LTE radio support! Today's AnandTech review here. If you don't care about tethering but want 4G performance, then take a look at the $175 Samsung T679 available at WalMart. Beware: Most AT&T GSM phones will also work with T-Mobile, but you'll only get 2G data performance because of the different radio frequencies used by AT&T and T-Mobile for 3G and 4G service.
If you have T-Mobile coverage in your area or if you spend a lot of time on the interstates and want network coverage for your laptops while you're on the move, this is the plan for you. We call it the Stealth Plan because neither WalMart nor T-Mobile says much about it. It's only available when you first sign up for service with your newly purchased T-Mobile SIM. Despite lots of chatter to the contrary, this plan is available (but unadvertised) by purchasing a 99¢ SIM directly from T-Mobile. Trust us. You're only risking a buck. But, beware, if you ever switch to a different plan (or if you sign up for the wrong $30 plan originally… T-Mobile and WalMart both push a lousy plan that includes 1500 talk minutes with 30MB of data for the same $30), you can never go back to the good plan without purchasing another T-Mobile SIM. To activate your T-Mobile SIM once you have your T-Mobile phone in hand, go here. Remember. Make your initial selection carefully. To buy $30 refills, here's the link.
Virgin Mobile (not quite) Unlimited Plan. If you have good Sprint coverage, would like to use an iPhone with or without tethering, and don't mind data limits then the Virgin Mobile Plan isn't too bad. $35 a month gets you 300 minutes, unlimited messaging, and 2.5GB of data. For $15 more, you get 3.5GB of data with tethering. $10 more gets you 1200 talk minutes a month while $20 more gets you unlimited talk. It's been reported that the Virgin Mobile iPhone 4S will be available in Target stores for $500 with a free $100 Target gift card beginning at 9 p.m. on Nov. 22.
VoIP Desktop Phone of the Year
It was just a matter of time until someone produced a reasonably priced, rock-solid SIP desktop phone based upon Android. The combination provides the best of both worlds with SIP access to your favorite Asterisk® server or Incredible PBX for the Raspberry Pi plus Skype, Google Voice, Microsoft Lync, YouTube, Facebook, Twitter, and Angry Birds without leaving your chair. Meet the $200 Grandstream GXP-2200. We got to spend some time with it at AstriCon 2012 a few weeks ago. With support for six lines, five-way conference calls, HD audio, Bluetooth, integrated PoE, and VPNs of many flavors, the GXP2200 takes top honors as our VoIP Desktop Phone of the Year. It's still in limited supply but should be available everywhere soon.
Thanksgiving Update: Since we originally published this article, Grandstream has released a firmware update that resolved virtually all outstanding issues. The Google Play Store now is available which means many Android apps you previously have purchased can now be installed on the GXP2200 at no cost. Skype with incoming video now works well. There's no outbound video because there is no camera built into the phone. Not sure whether a USB camera would solve that as we haven't tested it (yet). GrooVe IP can be installed from the Play Store for plug-and-play Google Voice calling. That gives you the "VoIP Big Three" on a single desktop phone: SIP, Skype, and Google Voice. AsteriDex also can be used from the phone's browser to provide click-to-dial calling with any SIP trunk you've set up on the phone. The PBX in a Flash RSS Security Feed can also be installed on the desktop of this phone. With the $5 IP Cam Viewer app, you can use your phone to monitor dozens of IP cameras in your organization or anywhere around the globe. In short, we can find nothing not to like about this phone! For up-to-the-minute news updates, visit the PIAF Forum.
Hosted VoIP Provider of the Year
We're delighted that one of our corporate sponsors is the hands-down winner of Hosted VoIP Provider of the Year. With your choice of servers throughout the United States, Canada, and Europe, not only is RentPBX's service and support second to none, but their $14.99 a month pricing for cloud-based hosting of PBX in a Flash is in a league of its own. Be sure to use coupon code PIAF2012 for your first hosted PBX order to take advantage of this special pricing.
VoIP Computer of the Year
No surprise here. The $35 Raspberry Pi now with 512MB RAM takes top honors. Add a power supply, plug into your LAN, burn Incredible PBX 3.5 to an SD card, and boot to a near perfect (free) VoIP platform with Google Voice, SIP support, unlimited extensions with voicemail, IVR support, text-to-speech and speech-to-text functionality. Take our 35 apps for a spin, and you'll agree the choice is a No Brainer. And this week you can add free fax support to the already incredible feature set. Review the Quick Start Guide and then the Fab 35 Apps Tutorial. Then finish off your adventure by Interconnecting Raspberry Pi devices in less than 5 minutes. If money is no object and you want one in two days, take a look at the Amazon ad in the right column which provides a good refresher in the law of supply and demand.
Our runner-up for best all-purpose VoIP computer remains the Foxconn NT535 Dual-Core Atom machine which is back on sale for $154.99 at Amazon today with free 2-day shipping with Amazon Prime. Details in our previous article.
VoIP Tablet of the Year
C|Net has done a great Roundup of the 7-Inchers. Jokes aside and absent special requirements, Google's Nexus 7 is the clear winner. You get an open platform, easily rootable, state-of-the-art quad-core tablet running the latest version of Android. And it supports every VoIP requirement you can dream up: Google Voice, SIP, Skype, and VPN support. The 16MB version is available for $199 directly from Google, WalMart, or Staples. That's over $100 less than the comparable, but inferior, iPad Mini. Because the iPad Mini lacks GPS support in the WiFi model, turn-by-turn navigation is out of the equation. At least for us, it is one of the major must-have features for any tablet device.
Happy Thanksgiving!
Tweet
Originally published: Tuesday, November 13, 2012
---

Need help with Asterisk? Visit the PBX in a Flash Forum.

---
Special Thanks to Our Generous Sponsors

FULL DISCLOSURE: ClearlyIP, Skyetel, Vitelity, DigitalOcean, Vultr, VoIP.ms, 3CX, Sangoma, TelecomsXchange and VitalPBX have provided financial support to Nerd Vittles and our open source projects through advertising, referral revenue, and/or merchandise. As an Amazon Associate and Best Buy Affiliate, we also earn from qualifying purchases. We've chosen these providers not the other way around. Our decisions are based upon their corporate reputation and the quality of their offerings and pricing. Our recommendations regarding technology are reached without regard to financial compensation except in situations in which comparable products at comparable pricing are available from multiple sources. In this limited case, we support our sponsors because our sponsors support us.


BOGO Bonaza: Enjoy state-of-the-art VoIP service with a $10 credit and half-price SIP service on up to $500 of Skyetel trunking with free number porting when you fund your Skyetel account. No limits on number of simultaneous calls. Quadruple data center redundancy. $25 monthly minimum spend required. Tutorial and sign up details are here.


The lynchpin of Incredible PBX 2020 and beyond is ClearlyIP components which bring management of FreePBX modules and SIP phone integration to a level never before available with any other Asterisk distribution. And now you can configure and reconfigure your new Incredible PBX phones from the convenience of the Incredible PBX GUI.


VitalPBX is perhaps the fastest-growing PBX offering based upon Asterisk with an installed presence in more than 100 countries worldwide. VitalPBX has generously provided a customized White Label version of Incredible PBX tailored for use with all Incredible PBX and VitalPBX custom applications. Follow this link for a free test drive!



Special Thanks to Vitelity. Vitelity is now Voyant Communications and has halted new registrations for the time being. Our special thanks to Vitelity for their unwavering financial support over many years and to the many Nerd Vittles readers who continue to enjoy the benefits of their service offerings. We will keep everyone posted on further developments.

---
---
Some Recent Nerd Vittles Articles of Interest…
Some of our purchase links refer users to Amazon when we find their prices are competitive for the recommended products. Nerd Vittles receives a small referral fee from Amazon to help cover the costs of our blog. We never recommend particular products solely to generate Amazon commissions. However, when pricing is comparable or availability is favorable, we support Amazon because Amazon supports us. [↩]