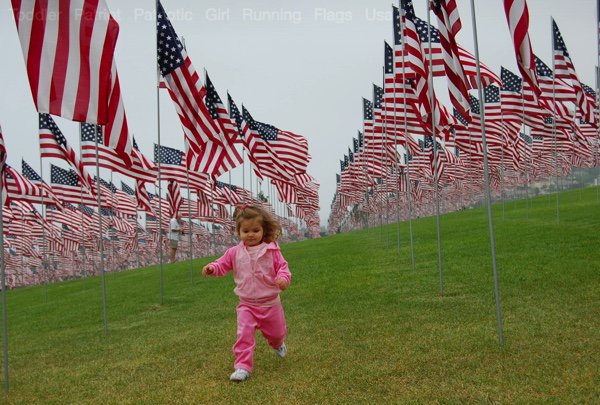 There was more than a little disappointment when PaloSanto Solutions closed up their Elastix® shop last year. The good news was that 3CX stepped in with a terrific free offer on their commercial PBX for Elastix users. And, of course, Sangoma® quickly learned Spanish to tout their closed source crippleware, the FreePBX® Distro. But today's a new day, and there's another great surprise as the discontinued Elastix 4 open source product is reincarnated as Issabel 4. Featuring a respin of CentOS 7 plus Asterisk® 11 and FreePBX GPL components (only), Issabel is the first new open source project in the Asterisk community in many, many years. And what a terrific GPL platform it is.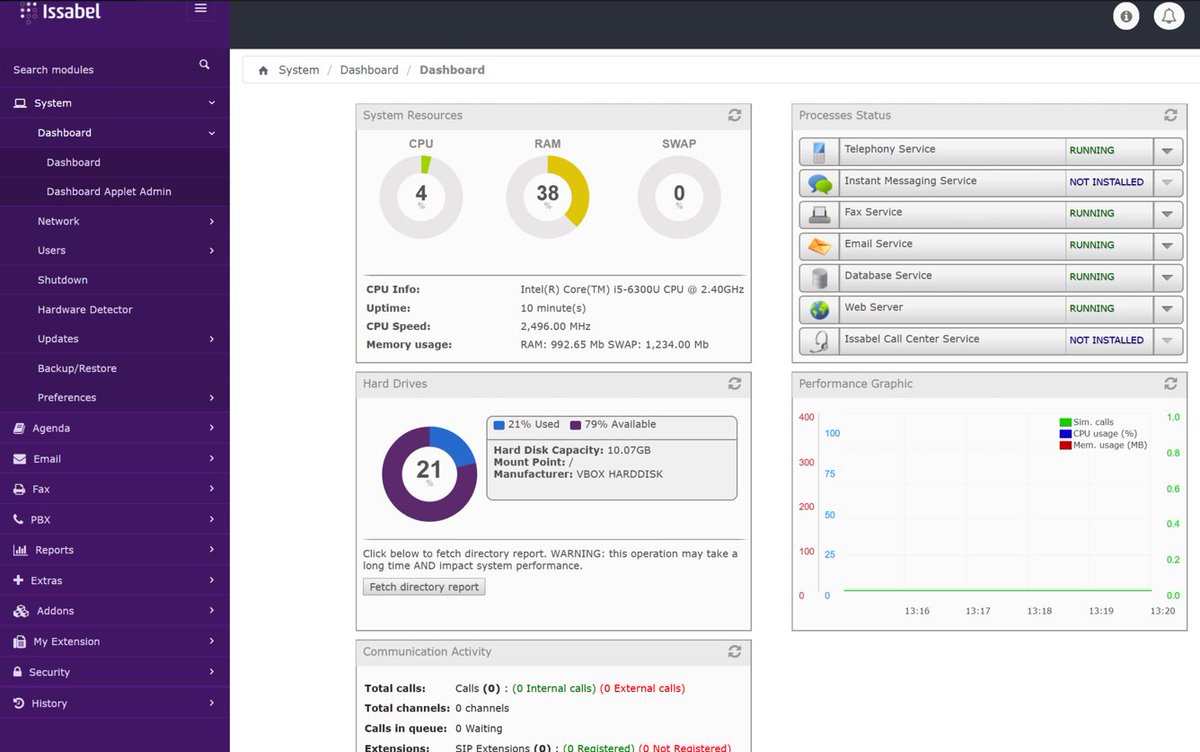 If you liked Elastix 4, you're going to love Issabel. Its feature set not only matches Elastix 4, but it further enhances it with a collection of bells and whistles you won't find anywhere else for free. In addition to a modern GUI and Dashboard, you'll find a rich collection of add-ons to further enhance the FreePBX GPL components without any NagWare. There's a native email server, a firewall, a fax server, chat service, Festival TTS, and optional add-ons for a Call Center, FOP 2, Vtiger CRM, and RoomX for hotel management.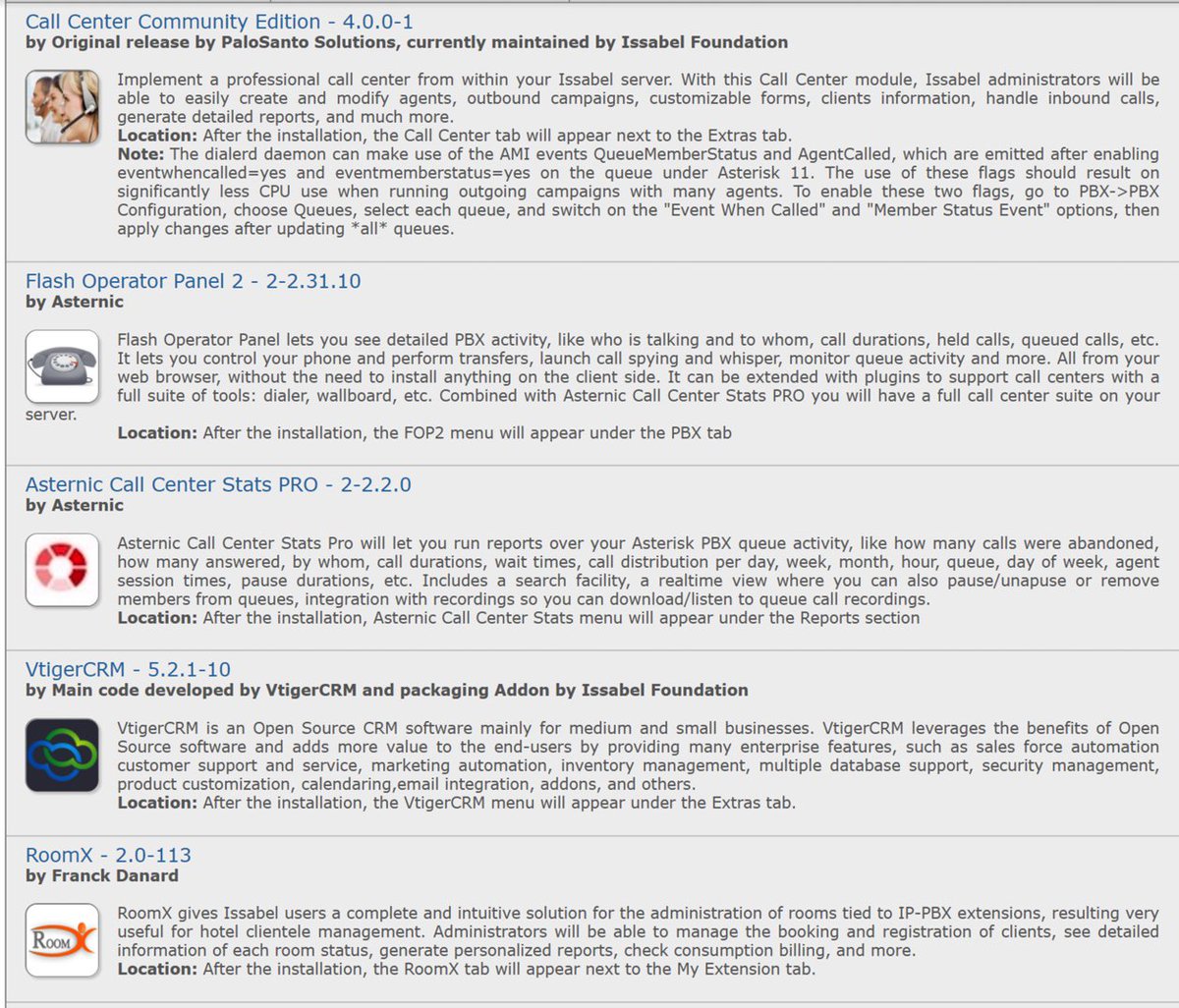 2018 NEWS FLASH: Incredible PBX® 13 for the 2018 edition of Issabel supporting Asterisk 13 is now available for download. Complete tutorial available at this link.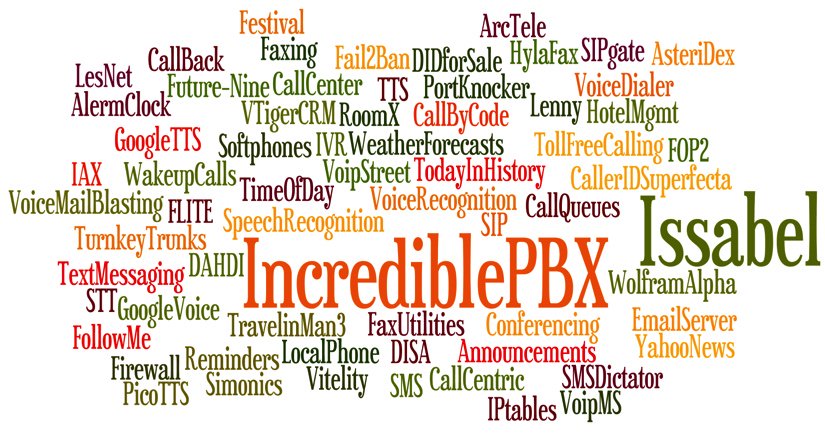 For today, let's get Issabel up and running. Installation is a breeze. Just download the
64-bit ISO from SourceForge
. Be sure to use the January 2018 release. We will upgrade it from there when we install
Incredible PBX 13 for Issabel in this new tutorial
. Then burn the image to a CD or, better yet, load it up on your desktop PC with VirtualBox and take it for a quick spin. We think you'll be thrilled.
Once you've installed the image and created your passwords, simply log into the Issabel GUI as admin with your GUI password. Click on PBX in the left column of the Dashboard. Set up a SIP trunk with an inbound and outbound route. Add an extension and a softphone, and you'll be making your first call in minutes. If you're unfamiliar with Elastix and FreePBX GPL components, here's a quick tutorial to get you started.
Getting Started with Issabel 4
Here's a quick overview of the installation and setup process for Issabel 4:
Choose HW Platform – Dedicated PC, Cloud, Virtual Machine
Install Issabel 4 – 64-bit CentOS 7 platform
Activate Trunks for Issabel 4
Connect a Softphone to Issabel 4
Configuring SMTP Mail with Issabel 4
1. Choose a Platform for Issabel 4
Issabel 4 works equally well on dedicated hardware, a cloud-based server, or a virtual machine. Just be sure you have a sufficiently robust Internet connection to support 100Kb of download and upload bandwidth for each simultaneous call you wish to handle with your new PBX.
For Dedicated Hardware, we recommend at least an Atom-based PC of recent vintage with at least a 30GB drive and 4GB of RAM. That will take care of an office with 10-20 extensions and a half dozen or more simultaneous calls if you have the Internet bandwidth to support it. Our favorite hardware platform remains the $200 Intel NUC, and you can read all about it here.
For Cloud-Based Servers, we recommend RentPBX, one of our financial supporters who also happens to size servers properly and restrict usage solely to VoIP. This avoids performance bottlenecks that cause problems with VoIP calls. Yes, we have a coupon code for you to get the $15/month rate: NOGOTCHAS.1 The new image to support Issabel 4 should be available shortly. In the meantime, you can roll your own VPS using the Issabel ISO at Vultr for just $5 $2.50 a month using our referral code. First, upload the ISO by choosing Servers -> ISO -> Add ISO after login. ISO image link: http://nerd.bz/2ukpAXC
Next, create a new Instance by clicking the + icon in Servers. Choose a Server Location close to you. For Server Type, choose Upload ISO and pick your new ISO image. Use $2.50/month Server Size. Enter issabel for your Hostname. Leave everything else at default settings. Click Deploy Now. Click the Manage tab once your Cloud Instance is up and running. Make note of your server's IP address. You'll need it shortly.
Wait about a minute and then click View the Console to connect to VNC with your booted Issabel installer. Expand the console window so you can see the entire screen. Highlight Install and press ENTER. Choose the default Installation Destination, and then click Begin Installation. Click Root Password and set a very secure root password. Click Done to proceed with install. Have a cup of coffee while you wait. At about the 60% mark in the post-installation setup, the install may appear to be hung. Relax. It's not. While you're waiting, on the Vultr console, go to Settings -> Custom ISO under Server Details for your instance and locate the button to remove the ISO from the instance. Don't do it yet. Switch back to the console window and wait for the instance to reboot and redisplay the Issabel installer menu. Now switch back to the Vultr window in your browser and click the Remove ISO button, and your server will reboot again. Close the Console window and then reopen it. Enter passw0rd (with a zero) for your MySQL password when prompted and create a very secure admin password for the web interface. Once the installer finishes, you can login to the IP address of your instance using user account admin and the web password you just created. If you ever need to reset them, login with SSH as root using your root password and issue the following command: issabel-admin-passwords --change
Update: On other cloud platforms that do not directly support ISO image installs, you can begin by installing a minimal, 64-bit version of CentOS 7. Then issue the following commands via SSH or Putty after logging into your server as root. NOTE: The 2018 release of Issabel featuring Asterisk 13 is NOT yet supported:

yum -y install wget nano openssh-server
wget -O - http://repo.issabel.org/issabel4-netinstall.sh | bash

For Virtual Machine Installs, we recommend Oracle's VirtualBox platform which runs atop almost any operating system including Windows, Macs, Linux, and Solaris. Here's a link to our original VirtualBox tutorial to get you started. We suggest allocating 1GB of RAM and at least a 20GB disk image to your virtual machine for best performance. We actually used VirtualBox to build our first Issabel 4 platform.
2. Install 64-bit Issabel 4 on Your Platform
Begin by downloading the 64-bit Issabel 4 ISO. For dedicated hardware, burn the ISO image to a DVD and boot your server with the Issabel 4 ISO to begin the install. You'll be presented with the CentOS 7 Installation GUI:
Choose: Time Zone (click)
Choose: Keyboard (click)
Choose: Install Drive (double-click)
Choose: Root Password (Make it Secure!)
Wait for Install and Reboot to Complete
Set MySQL Password to: passw0rd (MANDATORY: with a zero!)
Set Issabel admin Password: minimum 10 alphanumeric characters with upper & lowercase
For VirtualBox, create an Issabel 4 virtual machine of Linux (RedHat 64-bit) type by clicking New. Click Settings button. In System, enable I/O APIC and disable Hardware Clock in UTC Time. In Audio, enable Audio for your sound card. In Network, enable Bridged Adapter for Adapter 1. In Storage, click on Empty in the Storage Tree. Then click on the Disk icon to the right of CD/DVD Drive attributes. Choose the Issabel 4 ISO file that you downloaded. Click OK. Then start the virtual machine to begin the installation process. Follow the setup steps above to install Issabel 4 in your virtual machine.
3. Activate Trunks with Issabel 4
For those migrating from another aggregation including PIAF 3, this should be familiar territory for you. Using a browser, log into Issabel 4 at the IP address of your server using your admin password. Before you can actually make or receive calls outside your PBX, you'll need at least one trunk. In the Issabel 4 GUI, click PBX -> PBX Configuration -> Trunks. Once you have your credentials from a provider, choose a provider from the list of preconfigured trunks on the right or create a new one. If you're using one of the preconfigured options, remember to enable the trunk after adding your desired CallerID and credentials. Then save your settings and reload your Asterisk dialplan. That's it. You're ready to go.
To display your trunk registrations: asterisk -rx "sip show registry"
Google Voice Setup. If you wish to use Google Voice for free calling in the U.S. and Canada, you'll need to sign up for an account with Simonics SIP to Google Voice Gateway service. Complete documentation is here. With the latest version of Incredible PBX 13 for Issabel, Google Voice support is included in the GUI.
Connection Issues. If you experience problems getting trunks to register with providers, add or remove the following entry in /etc/asterisk/sip_custom.conf: nat=yes. Then restart Asterisk: amportal restart.
4. Configure a Softphone for Issabel 4
You can connect virtually any kind of telephone to your Issabel 4 PBX after you first create a SIP extension. Plain Old Phones require an analog telephone adapter (ATA) which can be a separate board in your computer from a company such as Digium. Or it can be a standalone SIP device such as ObiHai's OBi100 or OBi110 (if you have a phone line from Ma Bell to hook up as well). SIP phones can be connected directly so long as they have an IP address. These could be hardware devices or software devices such as the YateClient softphone. We'll start with a free one today so you can begin making calls. You can find dozens of recommendations for hardware-based SIP phones both on Nerd Vittles and the PIAF Forum when you're ready to get serious about VoIP.
We recommend YateClient which is free. Download it from here. Run YateClient once you've installed it and enter your credentials once you create a 701 extension in Issabel 4. You'll need the IP address of your server plus your extension 701 password. Fill in the blanks using the IP address of your server, 701 for your account name, and whatever password is assigned to the extension. Here's what your entries should look like. Click OK to save your entries.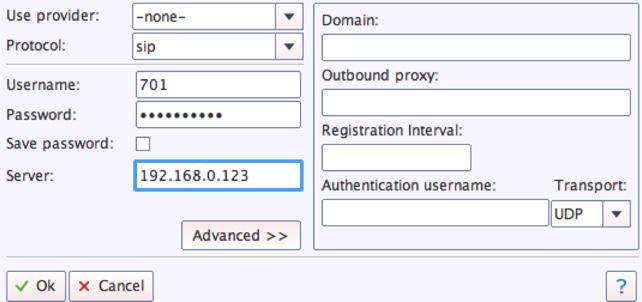 Once you are registered to extension 701, close the Account window. Then click on YATE's Telephony Tab and place some test calls.
5. Configuring SMTP Mail with Issabel 4
Outbound email support using Postfix is preconfigured with Issabel 4. You can test whether it's actually working by issuing the following command using your destination email address after logging in as root:

echo "test" | mail -s testmessage yourname@gmail.com

If you don't receive the email message within a minute or two and you've checked your spam folder, chances are your ISP is blocking downstream SMTP servers in an effort to combat spam. Comcast is one of the usual suspects. To enable outbound email service for delivery of voicemail and other email messages with a provider blocking downstream SMTP servers, just follow our recent tutorial to reconfigure Postfix on your server.
Published: Monday, July 3, 2017
---
Support Issues. With any application as sophisticated as this one, you're bound to have questions. Blog comments are a difficult place to address support issues although we welcome general comments about our articles and software. If you have particular support issues, we encourage you to get actively involved in the PBX in a Flash Forum. It's the best Asterisk tech support site in the business, and it's all free! Please have a look and post your support questions there. Unlike some forums, the PIAF Forum is extremely friendly and is supported by literally hundreds of Asterisk gurus and thousands of users just like you. You won't have to wait long for an answer to your question.
---

Need help with Asterisk? Visit the PBX in a Flash Forum.

---
Special Thanks to Our Generous Sponsors

FULL DISCLOSURE: ClearlyIP, Skyetel, Vitelity, DigitalOcean, Vultr, VoIP.ms, 3CX, Sangoma, TelecomsXchange and VitalPBX have provided financial support to Nerd Vittles and our open source projects through advertising, referral revenue, and/or merchandise. As an Amazon Associate and Best Buy Affiliate, we also earn from qualifying purchases. We've chosen these providers not the other way around. Our decisions are based upon their corporate reputation and the quality of their offerings and pricing. Our recommendations regarding technology are reached without regard to financial compensation except in situations in which comparable products at comparable pricing are available from multiple sources. In this limited case, we support our sponsors because our sponsors support us.


BOGO Bonaza: Enjoy state-of-the-art VoIP service with a $10 credit and half-price SIP service on up to $500 of Skyetel trunking with free number porting when you fund your Skyetel account. No limits on number of simultaneous calls plus quadruple data center redundancy assures that you'll never have a failed call. Tutorial and sign up details are here.


The lynchpin of Incredible PBX 2020 and beyond is ClearlyIP components which bring management of FreePBX modules and SIP phone integration to a level never before available with any other Asterisk distribution. And now you can configure and reconfigure your new Incredible PBX phones from the convenience of the Incredible PBX GUI.


VitalPBX is perhaps the fastest-growing PBX offering based upon Asterisk with an installed presence in more than 100 countries worldwide. VitalPBX has generously provided a customized White Label version of Incredible PBX tailored for use with all Incredible PBX and VitalPBX custom applications. Follow this link for a free test drive!



Special Thanks to Vitelity. Vitelity is now Voyant Communications and has halted new registrations for the time being. Our special thanks to Vitelity for their unwavering financial support over many years and to the many Nerd Vittles readers who continue to enjoy the benefits of their service offerings. We will keep everyone posted on further developments.

---
---
Some Recent Nerd Vittles Articles of Interest…
Some of our links refer users to providers that support Nerd Vittles through referral fees or advertising. These funds help cover the costs of our blog. We never recommend particular products solely to generate revenue. However, when pricing is comparable or particular features warrant our recommendation, we support these vendors and deeply appreciate their financial support of our software development efforts. [↩]