There are lots of choices in the VoIP marketplace these days, and everyone's requirements are different. So one size certainly doesn't fit all. So let me tick off our most important criteria, and you can compare our list to your own. At the top of our list are reliability, stability, performance, feature set, and ease of deployment and use. Next would be cost of ownership which includes not only the cost of initial deployment but also the recurring costs for both the hardware and software platforms as well as support. Finally, we think ease of migration, backups, and upgradeability are important issues to consider. Keep in mind that proprietary phone systems were designed to operate for a decade or more with only minor software tweaks. While that doesn't sell more product, it certainly provides less aggravation for end-users as well as those that have to deploy and maintain these systems. We believe CentOS 6 and Asterisk 13 are equally stable. From our experience working with large organizations, the only thing worse than swapping out a user's desktop computer was replacing their telephone.
Since the early days of Asterisk®, FreePBX®, and PBX in a Flash™, the Achilles' heel of all of these platforms has always been the difficulty in upgrading. The primary cause was the number of moving parts in any open source platform where literally thousands of developers are always "improving" things. It's one of the real advantages of a closed source product such as 3CX® which has the luxury of making changes under the covers without ever exposing any weaknesses in prior releases of their software. With today's introduction of Incredible PBX® 13-13.10, we are hopeful that those days are behind us.
The upgradeability improvements are fairly obvious. First, Incredible Backup and the FreePBX backup module have both matured into easy-to-use tools to take snapshots of your PBX to accommodate migration to other server platforms. Second, FreePBX now offers the Bulk Handler utility which provides snapshots in CSV (spreadsheet) format for extensions, DIDs, User Manager users and groups, contacts, and Conferences so that these settings can be easily imported and exported. While this doesn't encompass every setting in Asterisk and FreePBX, it gives you a leg up in moving to newer releases. And, as with 3CX, the FreePBX developers have provided an upgrade migration tool at least for their proprietary distro.
Having said all of that, we would caution everyone with a functioning PBX to ask yourself these three questions before migrating to a newer platform. First, is my current PBX secure and reliable? Second, are there functions my current PBX doesn't provide that my users actually need? Third, if/when my current hardware platform dies or my current cloud provider goes out of business, do I have a tested recovery option to get back into operation quickly? If your answers are yes, no, and yes, our strongest recommendation is SIT TIGHT.
If you flunked the test, then you owe it to yourself to give today's release of Incredible PBX 13-13.10 a try. Why? Because it's free and always will be. Because it's incredibly easy both to configure and to use. Because it provides the most comprehensive feature set in the VoIP industry. And because it will provide years of worry-free telephone service with free support.
Introducing 2019 Edition of Incredible PBX
Today marks our third major release of our flagship Incredible PBX 13-13 platform featuring 70+ new FreePBX GPL modules plus integrated support for free SIP URI worldwide calling plus all the latest components for OSS Endpoint Manager making SIP phone deployment a breeze. There also are terrific new backup and restore utilities which make migration and restoration of Incredible PBX platforms a snap. Finally, we've incorporated Skyetel SIP trunking in the build. It literally makes configuration of outbound and incoming calling a one-minute process. On the Skyetel side, create an Endpoint Group pointing to the IP address of your PBX, order one or more DIDs and point them to the new EndPoint Group. Done. On the Incredible PBX side, add Inbound Routes specifying the 11-digit numbers of your Skyetel DIDs and point each of them to the desired destination for incoming calls. Done. Outbound calls are automatically configured to use your Skyetel account. Our complete Skyetel tutorial is available here and includes an exclusive BOGO usage credit of up to $250.1 You now can deploy a fault-tolerant, high availability (HA) platform using Incredible PBX 13-13.10 and Skyetel. Here's how. Effective 10/1/2023, $25/month minimum spend required.
Installing Incredible PBX 13-13.10 Locally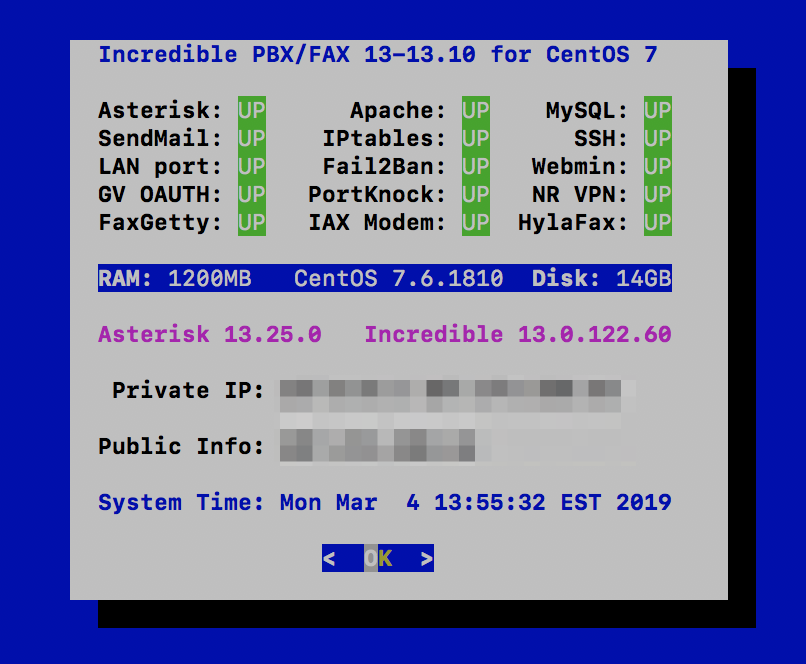 As with prior releases, the Incredible PBX ISO installer eases deployment on stand-alone hardware. For those that are new to Incredible PBX, head over to our detailed tutorial to get started. New releases for the Raspberry Pi and Ubuntu 18.04.2 are also available now.
Installing Incredible PBX 13-13.10 in the Cloud
Start by signing up for a cloud-based OpenVZ VPS platform with one of our recommended providers. Server locations and special signup details are documented in our article. Average cost is about $1/month on an annual contract with 1Gbit port or *free 1Gbit port upgrade on request based upon LowEndBox offer. Protect yourself by paying with PayPal which gives you 6 months to dispute a charge if the provider happens to go belly up. NOTE: Performance is almost directly proportional to annual cost with our Tier 1 and Tier 2 providers.
If you've installed previous iterations of Incredible PBX, here is a thumbnail sketch of the install procedure. Begin by installing a minimal CentOS 6 or CentOS 7 (64-bit) platform. Then log into your server as root and issue the following commands:

passwd
yum -y update
yum -y install net-tools nano wget tar
wget http://incrediblepbx.com/incrediblepbx-13-13-LEAN.tar.gz
tar zxvf incrediblepbx-13-13-LEAN.tar.gz
rm -f incrediblepbx-13-13-LEAN.tar.gz
# to add swap file on non-OpenVZ cloud platforms
./create-swapfile-DO
# kick off Phase I install
./IncrediblePBX-13-13.sh
# after reboot, kick off Phase II install
./IncrediblePBX-13-13.sh
# add Full Enchilada apps, if desired
./Enchilada-upgrade.sh
# add HylaFax/AvantFax, if desired
./incrediblefax13.sh
# set passwords
./update-passwords
# set desired timezone
./timezone-setup
# remember to enable TUN/TAP if using VPS Control Panel
# reconfigure PortKnocker if installing on an OpenVZ platform
echo 'OPTIONS="-i venet0:0"' >> /etc/sysconfig/knockd
service knockd restart
# fix pbxstatus for NeoRouter VPN support, if desired
cd /usr/local/sbin
sed -i "s|cat /etc/hostip|cat /etc/hostip \\| cut -f 3 -d ' ' |" pbxstatus
# set up NeoRouter client, if desired
nrclientcmd
# check network speed
wget -O speedtest-cli https://raw.githubusercontent.com/sivel/speedtest-cli/master/speedtest.py
chmod +x speedtest-cli
./speedtest-cli

Planning Ahead for That Rainy Day
If you haven't already learned the hard way, let us save you from a future shock. Hardware fails. All of it. So spend an extra hour now so that you'll be prepared when (not if) disaster strikes. First, once you have your new PBX configured the way you plan to use it, make a backup of your PBX by running the Incredible Backup script: /root/incrediblebackup13
Copy down the name of the backup file that was created. You'll need it in a few minutes.
Second, build yourself a VirtualBox platform on your desktop PC. Then download, install, and run the new Incredible PBX 13-13.10 vbox image from SourceForge. Our tutorial makes it easy.
Next, create a /backup folder on your VirtualBox PBX and copy the backup file from your main server to your VirtualBox server and restore it after logging in to VirtualBox PBX as root:

mkdir /backup
scp root@main-pbx-ip-address:/backup/backup-file-name.tar.gz /backup/.
/root/incrediblerestore13 /backup/backup-file-name.tar.gz

Verify that everything looks right by using a browser to access and review the settings in your new VirtualBox PBX. At a minimum, verify extensions, trunks, and routes. Sleep well.
---
News Flash: Turn Incredible PBX into a Fault-Tolerant HA Platform for $1/Month
Adding Asterisk Apps: Introducing Incredible PBX 13-13 Whole Enchilada
Continue Reading: Configuring Extensions, Trunks & Routes
Don't Miss: Incredible PBX Application User's Guide covering the 31 Whole Enchilada apps
Check out the new Incredible PBX 13-13 ISO. Complete tutorial available here.
Originally published: Friday, March 1, 2019
---

Need help with Asterisk? Visit the VoIP-info Forum.

---
Special Thanks to Our Generous Sponsors

FULL DISCLOSURE: ClearlyIP, Skyetel, Vitelity, DigitalOcean, Vultr, VoIP.ms, 3CX, Sangoma, TelecomsXchange and VitalPBX have provided financial support to Nerd Vittles and our open source projects through advertising, referral revenue, and/or merchandise. As an Amazon Associate and Best Buy Affiliate, we also earn from qualifying purchases. We've chosen these providers not the other way around. Our decisions are based upon their corporate reputation and the quality of their offerings and pricing. Our recommendations regarding technology are reached without regard to financial compensation except in situations in which comparable products at comparable pricing are available from multiple sources. In this limited case, we support our sponsors because our sponsors support us.


BOGO Bonaza: Enjoy state-of-the-art VoIP service with a $10 credit and half-price SIP service on up to $500 of Skyetel trunking with free number porting when you fund your Skyetel account. No limits on number of simultaneous calls. Quadruple data center redundancy. $25 monthly minimum spend required. Tutorial and sign up details are here.


The lynchpin of Incredible PBX 2020 and beyond is ClearlyIP components which bring management of FreePBX modules and SIP phone integration to a level never before available with any other Asterisk distribution. And now you can configure and reconfigure your new Incredible PBX phones from the convenience of the Incredible PBX GUI.


VitalPBX is perhaps the fastest-growing PBX offering based upon Asterisk with an installed presence in more than 100 countries worldwide. VitalPBX has generously provided a customized White Label version of Incredible PBX tailored for use with all Incredible PBX and VitalPBX custom applications. Follow this link for a free test drive!



Special Thanks to Vitelity. Vitelity is now Voyant Communications and has halted new registrations for the time being. Our special thanks to Vitelity for their unwavering financial support over many years and to the many Nerd Vittles readers who continue to enjoy the benefits of their service offerings. We will keep everyone posted on further developments.

---
---
Skyetel is a Platinum Sponsor of Nerd Vittles and open source projects of Ward Mundy & Associates, LLC. [↩]