Remember that girl that you never much noticed in high school that happened to cross your path years later and there was that instant attraction. It's one of our favorite country songs.

What a month it has been. 30 days ago we'd never met. And then it happened. We were introduced to XiVO by a single post on the
PIAF Forum
. It's difficult to choose a single adjective that describes how feature-rich XiVO is as a real-time Asterisk platform. Ten years of development coupled with some really talented Canadian developers puts XiVO in a league of its own. Pure GPL code. No gotchas. No hidden agenda. Incredible documentation. No snake oil salesmen trying to peddle add-ons for money. And, thanks to the endless patience of Sylvain Boily and Pascal Cadotte Michaud, two of the key XiVO developers, we've had quite a joy ride this month. Today we want to share what we've learned and provide everything you need step-by-step to hit the ground running with XiVO. In less than an hour, you'll be sitting in front of your own XiVO server, and you can judge for yourself. All we can ask is "Where have you been all these years?" XiVO really is THAT GOOD!
UPDATE: The first release of Incredible PBX for XiVO is now available here. Please consider this article superseded by the new release.
Let's Start with the Features. If you make frequent changes to your Asterisk platform, then you'll really appreciate XiVO's realtime implementation. Changes are loaded almost instantaneously. Contrast that with some other platforms with hundreds of users where simple changes require several minutes or more to reload the Asterisk dialplan. Here's an example:


Speaking of hundreds of users, consider the time required to generate accounts and phone configurations for hundreds of users. With XiVO, a simple spreadsheet can be used to build all the user accounts in seconds. And XiVO's Endpoint Manager supports all of the major phone manufacturers and configures your phones in seconds. With other solutions, you've got a fee for the Endpoint Manager add-on itself and then another annual maintenance fee to assure that the software will continue to work. Contrast that with XIVO's GPL alternative. Choosing Configuration:Provisioning:Plugins:Update generates templates for dozens of great SIP phones in seconds with just four button clicks. Adding your own new models is a breeze.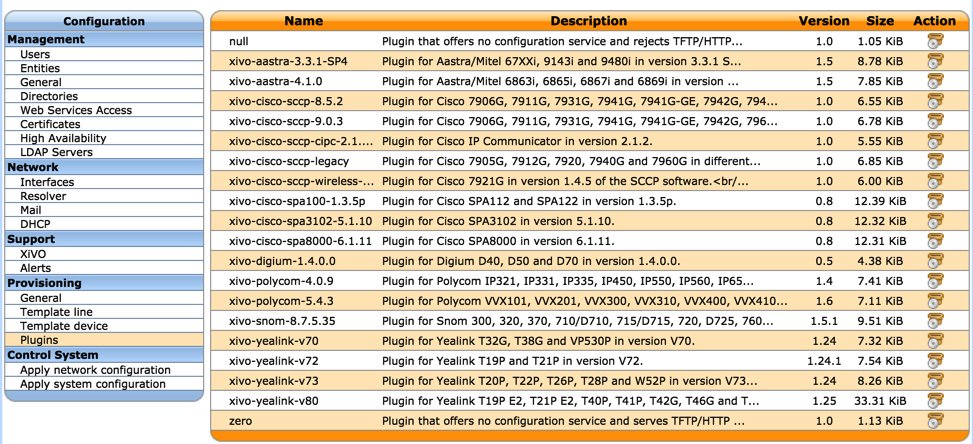 We've already written about XiVO upgrades and backups, the twin-edged sword with most Asterisk implementations. Yes, you can go the proprietary route and stumble through dozens of menus and arcane commands to load upgrades and create backups. With XiVO, backups are automatic and the updates are fast and furious. Every morning a new backup arrives in /var/backups/xivo, and a new version of XiVO is released every three weeks. You can upgrade your server in under a minute with one simple command. Did we mention reported bugs are addressed in under 30 days!
One of the real failures of the other GUI offerings is their lack of tools to perform most tasks in any way other than using the GUI. For developers and those that maintain numerous phone systems from afar, this becomes a nightmare. XiVO offers a better alternative. Yes, there's an incredible GUI. But there's also a robust collection of APIs that provide programmatic access to manage and query virtually every piece of the XiVO puzzle. As if that weren't enough, there's also real documentation and samples to show you how to use each piece.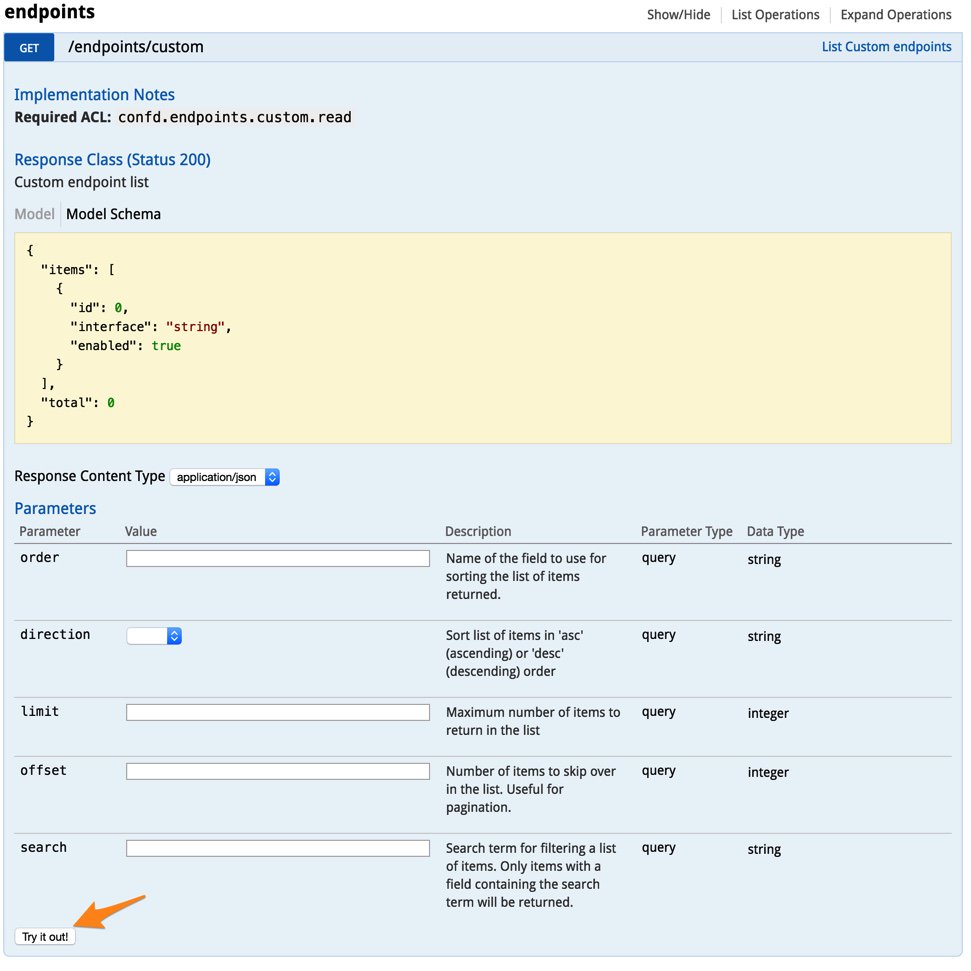 Have we got your attention yet? We haven't even touched upon Call Centers and High Availability (HA) server deployments, but they're included at zero cost. For today and just getting started, suffice it to say that XiVO covers all the bases with open source code. And all of these features already are incorporated into the product you're about to install. So, if those two items have been on your Wish List and you'd prefer to avoid paying an arm and a leg for proprietary, commercial add-ons with recurring annual fees, today's your lucky day. Break open the latest XiVO documentation, all 479 pages of it and enjoy!
We've barely scratched the surface of what you can do with XiVO. Simply stated, anything you can do with the other GUI offerings, you can do better, quicker, and cheaper with XiVO. And, if there are features you need that aren't there, all you have to do is ask. We're porting applications to XiVO at the rate of about one new application a day. You can do the math on feature sets and measure where we'll be when the summer is over.
Getting Started with XiVO. Jump to the latest tutorial to install XiVO.
Bookmark Getting Started with XiVO and you can follow our progress in coming months. Enjoy!
For additional tips & tricks with XiVO, take a look at our previous articles:
2016, The Year of (real) VoIP Choice: Meet XiVO, a UC Solution for Any Business
The XiVO Adventure Continues: Adding Incredible PBX Goodies to Your Sandbox
2016, Celebrating The Preakness: CallerID Superfecta Rides Again with XiVO
Choosing Wisely: Mastering Asterisk IVR and AutoAttendant Design with XiVO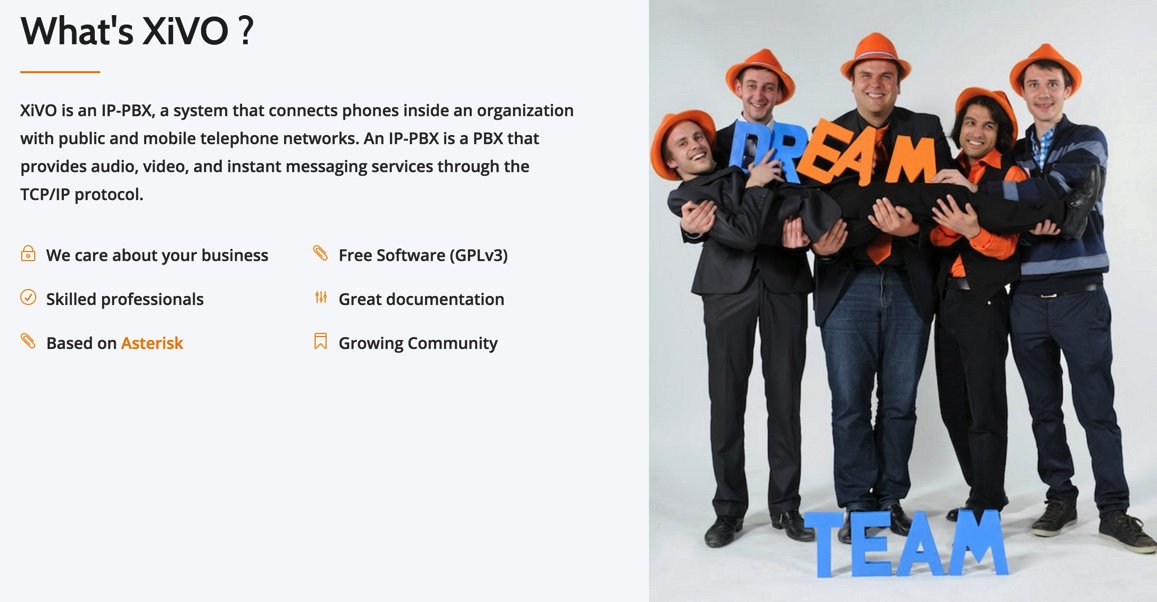 Choosing a XiVO Hardware Platform
XIVO Initial Setup Tutorial
XiVO Initial Setup Tutorial: Getting Started with XiVO
XIVO Trunk Implementation Tutorials
XIVO Call Routing Tutorials
---
Taking Nerd Vittles' XiVO IVR for a Test Drive
There's a Demo IVR running at www.pacificnx.com on their XenServer virtualization platform. Scott McCarthy, a leading outside XiVO developer and a principal at PacificNX, tells us they soon will have a $20 a month platform specifically tailored to XiVO. And that's what you'll be hearing when you call the Nerd Vittles Demo IVR:
Nerd Vittles Demo IVR Options
1 – Call by Name (say "Delta Airlines" or "American Airlines" to try it out)
2 – MeetMe Conference
3 – Wolfram Alpha (Coming Soon!)
4 – Lenny (The Telemarketer's Worst Nightmare)
5 – Today's News Headlines
6 – Weather Forecast (enter a 5-digit ZIP code)
7 – Today in History (Coming Soon!)
8 – Speak to a Real Person (or maybe just Lenny if we're out)
Published: Tuesday, May 31, 2016
---
9 Countries Have Never Visited Nerd Vittles. Got a Friend in Any of Them https://t.co/wMfmlhiQ9y #asterisk #freepbx pic.twitter.com/TPFGZbqWB6

— Ward Mundy (@NerdUno) April 22, 2016
---

Need help with Asterisk? Visit the PBX in a Flash Forum.

---
Special Thanks to Our Generous Sponsors

FULL DISCLOSURE: ClearlyIP, Skyetel, Vitelity, DigitalOcean, Vultr, VoIP.ms, 3CX, Sangoma, TelecomsXchange and VitalPBX have provided financial support to Nerd Vittles and our open source projects through advertising, referral revenue, and/or merchandise. As an Amazon Associate and Best Buy Affiliate, we also earn from qualifying purchases. We've chosen these providers not the other way around. Our decisions are based upon their corporate reputation and the quality of their offerings and pricing. Our recommendations regarding technology are reached without regard to financial compensation except in situations in which comparable products at comparable pricing are available from multiple sources. In this limited case, we support our sponsors because our sponsors support us.


BOGO Bonaza: Enjoy state-of-the-art VoIP service with a $10 credit and half-price SIP service on up to $500 of Skyetel trunking with free number porting when you fund your Skyetel account. No limits on number of simultaneous calls. Quadruple data center redundancy. $25 monthly minimum spend required. Tutorial and sign up details are here.


The lynchpin of Incredible PBX 2020 and beyond is ClearlyIP components which bring management of FreePBX modules and SIP phone integration to a level never before available with any other Asterisk distribution. And now you can configure and reconfigure your new Incredible PBX phones from the convenience of the Incredible PBX GUI.


VitalPBX is perhaps the fastest-growing PBX offering based upon Asterisk with an installed presence in more than 100 countries worldwide. VitalPBX has generously provided a customized White Label version of Incredible PBX tailored for use with all Incredible PBX and VitalPBX custom applications. Follow this link for a free test drive!



Special Thanks to Vitelity. Vitelity is now Voyant Communications and has halted new registrations for the time being. Our special thanks to Vitelity for their unwavering financial support over many years and to the many Nerd Vittles readers who continue to enjoy the benefits of their service offerings. We will keep everyone posted on further developments.

---
---
Some Recent Nerd Vittles Articles of Interest…